Roof cleaning is one of the most important home improvement tasks a homeowner will be faced with — though maintaining a clean roof is for more than simply achieving a better looking home.
While you may not have thought to clean your roof in the past, your insurance provider insist that you should. Why? The answer is simple: although you may not be aware, the state of your roof can actually affect your insurance coverage and cost you a significant amount of money in the long run.
In fact, an insurance company can cancel your policy if your roof is too dirty, as a dirty roof can seriously impact the structural integrity of your shingles over time. Because of this fact, insurance companies will seek to avoid the costs associated with replacing your roof.
Think about it, the price of a new roof can range from $5,000 to more than $10,000. On the other hand, having your roof cleaned costs only 1/10th of the price of a replacement.
By now you may be thinking of cleaning your roof yourself, however this is not recommended for numerous reasons. For one, simply standing on your roof to clean it is extremely dangerous for those who are not properly trained — and can even lead to serious or fatal injuries if you happen to fall.
Moreover, using a hose or pressure washer can cause serious damage to your shingles, which is counterproductive to your goal of having a clean roof that satisfies your insurance company (and your neighbors).
Don't waste your time and money. Be safe and choose a professional roof cleaning company in San Antonio — like Glass Geeks — who implement soft washing techniques for any roof type.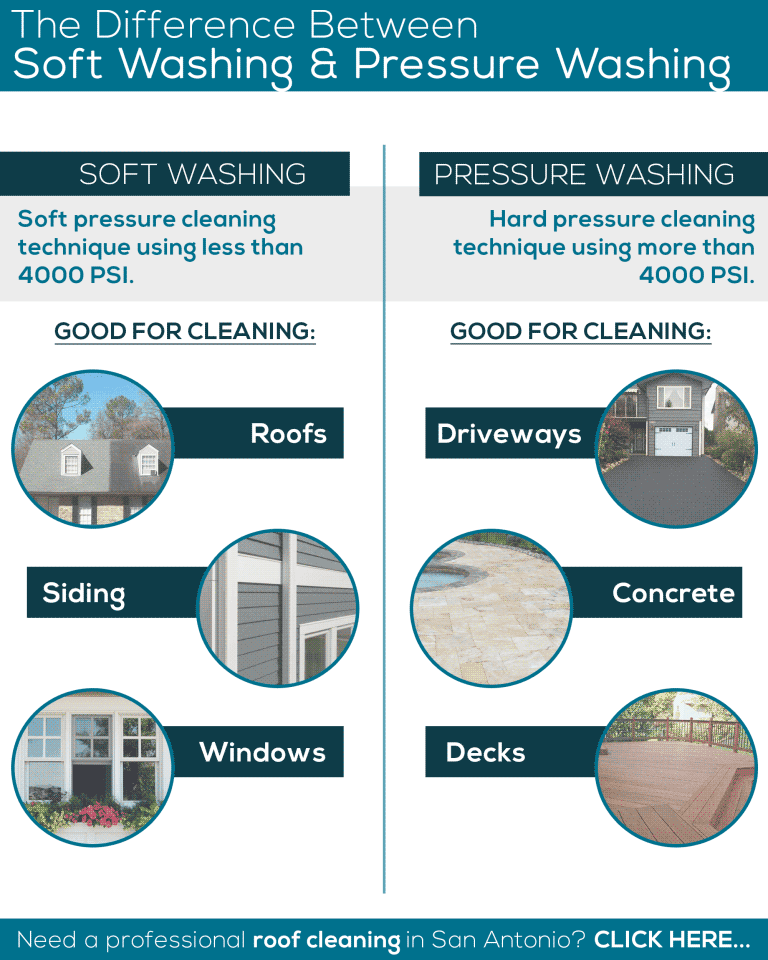 Known as the opposite of power washing, the soft washing technique — used by our roof cleaning experts at Glass Geeks — uses softer pressure, usually less than 1000 PSI, and relies instead on the right detergents and the proper dwell times to get a surface clean.
The "dwell time" refers to the length of time a cleaning solution or detergent needs to remain on a surface in order for the chemicals to effectively loosen and remove the stains, grime, and debris.
After the appropriate dwell time has passed, the surface is thoroughly rinsed with low pressure, leaving behind a clean, smooth surface.
Soft washing is safe and effective on all surfaces, and indeed, should be the only pressure washing method applied to most areas of your home.
Every roof that we clean at Glass Geeks is done in a safe and gentle manner. Our eco-friendly formulation is proven to effectively kill any organism that may be eating away at your shingles.
Our biodegradable soaps are sprayed onto your shingles using low pressure. Once they are sprayed onto your shingles, the formula starts working to kill the algae colonies. Before we finish our job, we are careful to ensure that all dark stains are removed.
For a better understanding of soft washing, and its benefits over standard pressure washing, check out this insightful piece from AngiesList.com!
Roof cleaning in action! See the results you can expect from the proper roof washing techniques in the Instagram post below:
As a homeowner, you take pride in your home and will do whatever it takes to keep it in good condition.
Shingle manufacturers are now recommending the occasional cleaning of your roof. As if you didn't already have enough household chores to keep you busy.   Let the experts at Glass Geeks handle this for you.
Rest easy knowing that our fully trained technicians will take care of all your roof washing and stain removal needs. We'll make your asphalt shingles look brand-new!
Cedar shake roofs often leave homeowners dissatisfied. Realtors and builders don't always tell you that the shingles on your cedar shake roof must be maintained.
There are two parts to a cedar shake roof: the felt and the shingles themselves. The felt is the component that protects your roof, and the cedar shake shingles protect the felt. If you take good care of the shingles, you will enhance the longevity of your cedar shake roof.
Mold, moss, lichen, fungi, and algae infestation will cause your shingles to retain water and make them split, buckle, and decay the wood.
Our expert staff at Glass Geeks uses a non-pressure soft-wash cleaning system that will protect and improve your roof's longevity.
Metal roofs can last for more than 30 years. Some metal roofs even come with a lifetime warranty. Dirt, algae, pollen, and mold can change the appearance of your metal roof. Dirt and infestation can reduce the roof's ability to shed moisture.
Algae and mold thrive in damp conditions and can encourage rust to form. Oxidization causes your metal roof to appear dull and will deteriorate the paint over time.
The proper roof cleaning process — such as the process we use at Glass Geeks — uses a non-pressure soft wash cleaning system that removes the stains and the infestation. A sealer should also be applied to slow down and prevent future growth. For the best results, a brightener should be used to enhance the finish of your paint once the cleaning has been completed.
When it comes to the insurance companies deciding to cancel a policy due to a dirty roof, the same rules apply with a commercial roof as they do with the roof on your home. Not to mention, the same issues that can affect a residential roof, can also wreak havoc on a roof covering a commercial structure — compromising its integrity and losing you significant money.
For all of your storefront, office, and industrial roof cleaning needs, you should seek out a reputable roof cleaning company — like Glass Geeks — who have the experience and training working on both residential and commercial properties.
Regardless of the type of roof your commercial building has, Glass Geeks can clean it! Some of the most common roof surfaces that we clean in the San Antonio, TX area include…
..and more!