What is pressure washing, and what makes it so important to keeping your home's outdoor spaces looking their best?
Pressure washing (in simple terms) refers to a high power mechanical sprayer that is used to remove a range of unsightly outdoor peskiness like loose paint, mold, dust, dirt, mud and grime.
These problems are not only visually unappealing, but can lead to permanent damage — creating stains that will forever be a reminder to you and your guests. This is where pressure washing becomes a homeowner's hero (so-to-speak) by eradicating filth, in ways a simple hose or other cleaning mechanism can't.
With that being said, does this mean you have to go out and spend over $200 on a consumer pressure washer found at your local hardware store? Well, the simple answer is no!
Check out the Twitter users below who share their personal experiences with pressure washing
Pressure washing the driveway was a fail

— Callie Richeson (@callielizabeth2) September 23, 2013
In middle of pressure washing the driveway and the washer just randomly stops working, gas is full, waters on, but nothing #FAIL

— Kenneth J. Costa (@KennethJCosta) July 12, 2012
Pressure Washing= not fun. #thingsthatsuck #fail

— Brack Tommie (@bstommie)
Debunking the common pressure washing myth
As you can see, the typical results for most of the 'do-it-yourself' crowd are negative. The culprit? Consumer level pressure washers. They simply just do NOT hold up.
While pressure washing on your own sounds good in theory, in reality, (unlike some of life's other conundrums) the price and power of the machine makes a world of difference when it comes to results.
Unfortunately, the high powered pressure washers that are fully equipped to provide a stellar clean aren't sold to consumers and won't be found at your local hardware store for $230. These machines are typically ONLY used by the pros.
However, if you're the most stubborn of DIYers, and insist on completing literally every household issue or project yourself, then you should head over to popularmechanics.com where you'll find a swell write-up for finding the best pressure washer for you.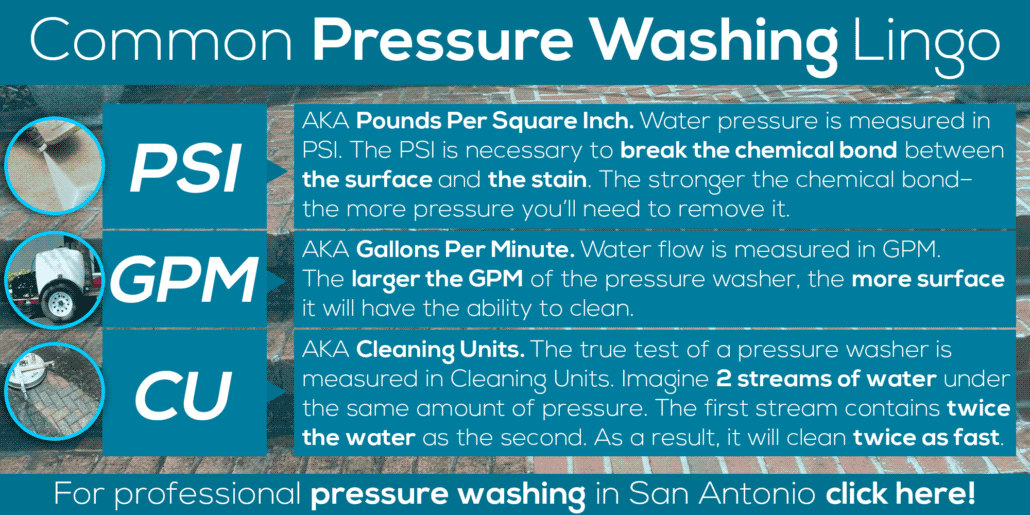 Common Pressure Washing Terms: These will be used throughout this page. Use this graphic to familiarize yourself with the lingo.
So, where does that leave you? We'll spill the truth: hiring a professional is the best route to achieving the successful results that a pressure washer can provide.
Still need convincing? Take a look at the basic benefits hiring a professional — like Glass Geeks — can provide for your pressure washing project: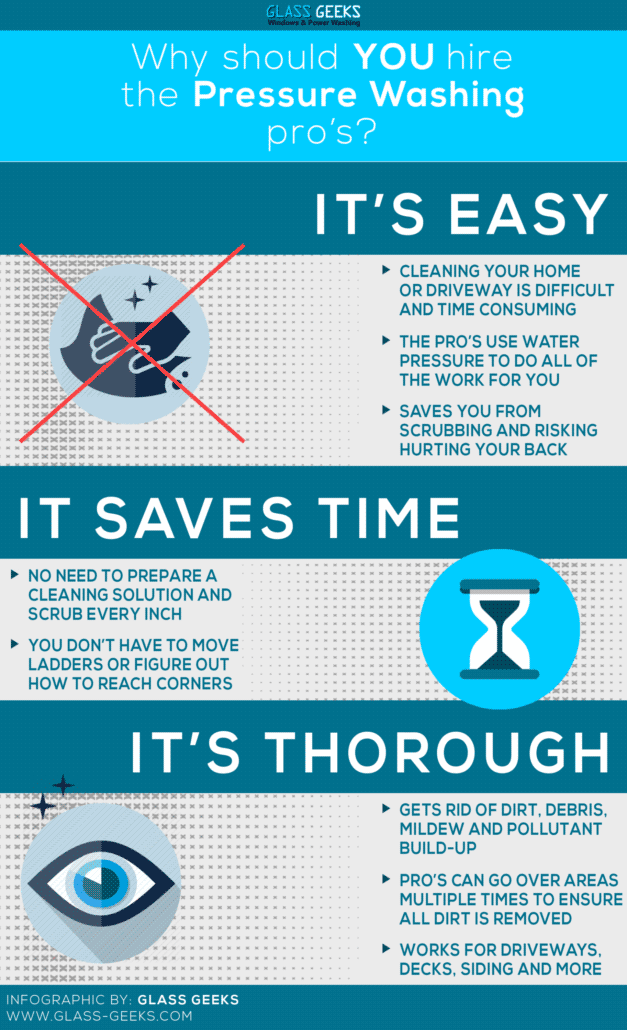 What Does Professional Pressure Washing Entail?
A real professional clean from a real pressure washing expert can provide you with incredible results, no matter what outdoor area is in need of cleaning. This includes:
Driveways
Patios/Decks
Walkways
Front Entryways
Vinyl Siding
Roofs
Or anywhere else that has the tendency to build up pesky dirt and grime.
What YOU Should Look For Before Choosing A Pressure Washing Pro:
By now you're likely on the look out for a 'pressure washing pro' to bring cleanliness back to your backyard patio that has been overrun with dirt; or to your driveway, which has been plagued by tire/oil marks and pounds of mud. However, there's a few prerequisites you should ensure are in order before hiring any professional.
What is this criteria? It starts with…
It may be shocking to some, but most contractors you'll come across won't have the proper insurance to cover damages that may occur during or after the job. This becomes a massive problem should the professional you hired make a mistake — yes, even the pro's are prone to making a few — and have the need for repairs.
This is why you should always do your due diligence and ONLY select companies — like Glass Geeks — who are 100% insured for every job. Especially in the case of pressure washers, which (beyond restoring dirty outdoor surfaces to their former glory) are notorious for causing damage when not used properly.
For more on what a pressure washer can do when it is not used properly, we suggest visiting Angie's List, which has a tremendous list of pressure washing do's and don'ts.
Top Notch Pressure Washing Equipment
The most important attribute for any pressure washing job is the equipment used to get the job done. This varies by company and/or contractor, but for the San Antonio pressure washing experts at Glass Geeks, we use ONLY the highest quality equipment when it comes to performance and safety for your outdoor surfaces.
With $50k+ invested, Glass Geeks is all-in on remedying ANY unsightly build-up of dirt and grime on your home's exterior, driveway, patio/deck and more.
Don't Underestimate Reputability
At the end of the day, you can boast all the fancy pressure washing equipment and skilled professionals to-boot, but if you don't have reputability, is any of it worth it? Well… No.
Unlike some of our competitors out there, Glass Geeks is anti-bait-and-switch. What does this mean? We'll NEVER stray from the agreed upon price and won't hit you with extra fees and charges once the job has been completed.
We pride ourselves on being a real company; one that listens to and cares about its customers. This is why we're always emphasizing completing every job on time and answering questions whenever a customer has one. After all, we're only a phone call away!
Don't take our word for it, see what our satisfied customers are saying about Glass Geek's stellar customer service by visiting us on Yelp!