Do you look at your home's exterior in utter-disgust due to house washing neglect?
Is your vinyl siding covered in mud and dirt, causing you to cringe every time you catch a glance of your home while leaving for work or pulling into the driveway?
Are you embarrassed at the thought of neighbors or friends seeing your home in such rough shape?
Unfortunately, the filthy exterior of your home is the result of many years of dirt and grime build-up (compliments of the elements). This means, by now, your home is going to be an utter pain to clean and will require a set of tools abundantly more powerful than conventional cleaning products (such as an every-day hose and/or paper towels).
Anyway you slice it, what your home needs is a professional-level house washing. But how do you clean your home's exterior like the pro's if you aren't one?
House washing isn't easy for the average homeowner
Therein lies our next problem: you (the average homeowner) are likely NOT a professional when it comes to house washing. While this is not a cause for feeling ashamed, it does present an issue in how successful you are at properly cleaning your home's exterior.
Check out the graphic below to gain some insight into why homeowners fail at house washing: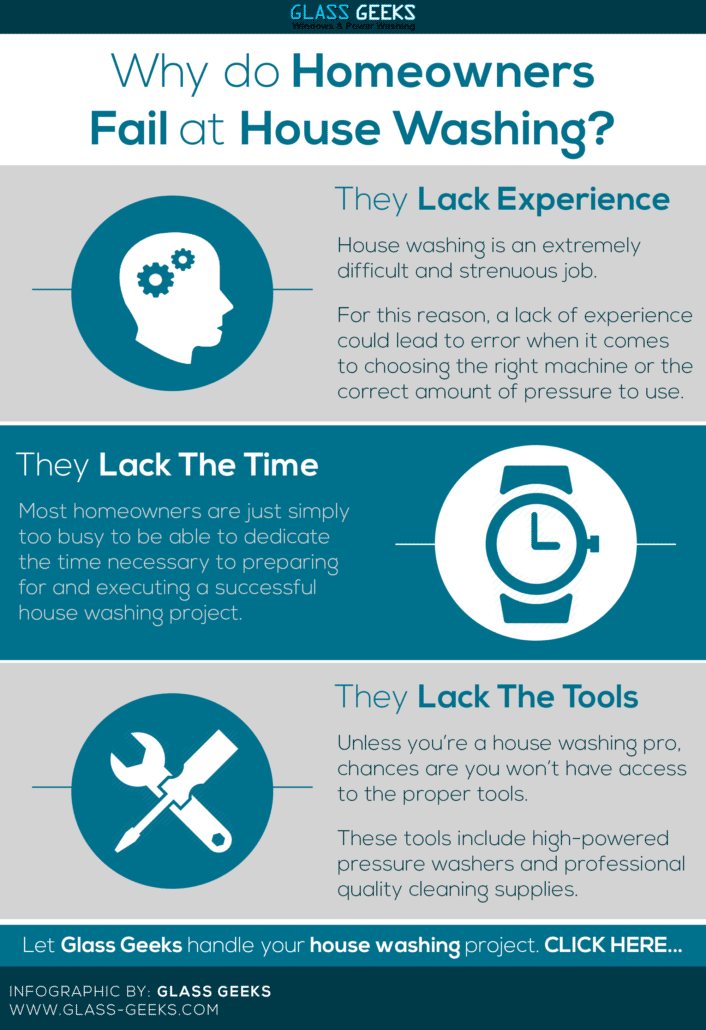 As you can see, there's more than a few barriers in your way of achieving successful house washing results. Things like:
A lack of experience
A lack of time
A lack of proper supplies and machinery
…can lead to a house that doesn't look much (if at all) cleaner than it did before you started or worse: you could even damage your home's exterior and siding, which would be a costly price to pay for attempting to rid your home from unsightly mud and dirt.
If you're beginning to lose hope in achieving professional-level house washing results, rest assured — while house washing is best left to the professionals, like the experts at Glass Geeks — you still have a chance to restore your home's exteror to its former glory. How? First, you'll need to…
Approach House Washing Like The Pro's
Before beginning any house washing project, you should ensure you've either done extensive research when it comes to the correct cleaning solutions, power washing equipment and techniques needed to get the job done right or that you've consulted with a house washing professional to provide this information for you.
Once you feel confident enough to begin your house washing project, be sure to make a checklist of tools and other items, including:
Pressure Washer
Heavy-Duty Buckets
Cleaning Solutions (House Washing Specific)
Garden Sprayer
Fiberglass Extension Pole (Optional)
Soft Siding Brush (Optional)
If you're wondering what pressure washer is right for you, we suggest heading over to popularmechanics.com where you'll find a detailed list of consumer-level pressure washers (AKA what you'll find at your local hardware store) to give you some insight.
Here are a few posts from Instagram to demonstrate the proper house washing techniques used by the pro's:
Understanding Pressure Washers
While pressure washers are by no means a magic wand that can be waved to simply fix or clean every problem around your house, their reputation for providing a quick and effective clean (while conserving water) is 100% authentic.
Of course, pressure washers have their limitations, but this is typically only true when it comes to using low-end machinery — meaning electric pressure washers, which should only be used to clean your car, truck, small boat or patio furniture. For something as large (albeit delicate) as the exterior of your home, you need something much more powerful. This is usually why the pro's are the best for the job, as they posses the highest quality pressure washing machinery to give you a flawless clean.
While terms like PSI and CU may seem a bit foreign to the average homeowner, these are the most important terms to keep an eye out for when searching for the pressure washer that will be carrying out your house washing project. Why?
A pressure washer's capacity is measured in CU (cleaning units) which is the product of water pressure (measured in pounds per square inch, or PSI) multiplied by the flow rate.
For comparison's sake: an average electric pressure washer boasts nearly 2,500 cleaning units, while a consumer-grade gas engine pressure washer could operate up to 6,210 cleaning units. If you consider the pressure washers used by the pro's operate at up to 16,000 units, you should realize: the more CU, the more effectiveness the pressure washer will boast.
Once you've succesfully shopped around to find the right pressure washer, now comes the hard part: actually using it to wash your house.
With your supplies in hand, you should be mixing your house cleaning specific detergent (multpurpose siding cleaner works fine) with warm water, while using your pressure washer on low-pressure and work from the top of your siding, slowly to the bottom until your home's exterior is dirt and grime-free.
What to do when you have stuck-on mildew?
Mildew can be impossible to clean with a rinsing mechanism (even a pressure washer) thus, it's a good idea to approach this nuisance with hand tools (using a ladder for access).
You can start by pre-treating your siding with your house washing cleaning detergent and proceed to scrub mildew-stains in circular motions. Then, rinse with your pressure washer — or even your average garden sprayer will do the trick — to remove any excess nastiness, and voila, 'mildew-no-more'
IMPORTANT HOUSE WASHING TIP: If you're afraid of heights (and ladders) you can purchase a brush extension rod to do the scrubbing while you're safe on the ground.
While house washing gives new life to your home's exterior, it's important to take the job seriously by using caution at all times. This will decrease the likelihood of personal injury or damage to your home. Here are a few safety tips to keep in mind:
Be mindful around electricity:
One way pressure washing can be a dangerous job is due to the fact you're likely to get wet. While this isn't a huge deal on it's own (unless you're wearing a nice outfit) it becomes troublesome when you factor in wires and outdoor electrical outlets that will surely be close by at all times.
Keep a close eye out for wires in your path and make sure not to touch anything electrically charged while pressure washing to avoid being electrocuted.
Watch your footing:
If you opt to wash your house using hand tools, you're likely going to be forced to use a ladder to reach the necessary height in order to scrub dirt and grime.
Avoid a nasty fall by ensuring to stand firm and watching your footing while climbing, standing and descending your ladder. As a further precaution, get a friend or family member to stand by and hold the ladder while you're using it to ensure it's sturdy at all times.
Approach siding with a delicate touch:
Pressure washing (while effective) is notorious for causing damage when used in excess. Try out a pressure washer nozzle with a wide fan pattern first before moving onto a more narrow pattern nozzle.
Always be mindful of the degree of each nozzle's fan pattern. For example, most pressure washing should be accomplished with nozzles that spray at a fan patter of 15, 25 and 40 degrees. Nozzles that have a fan pattern of 0 degrees should only be used for unusual applications, such as stripping off stuck-on mud.
Keep your nozzle moving at all times while holding it a good distance away from your house. Never blast water at a steep angle under your siding, directly into corners, under the edges of windows/door OR into attic/dryer vents as this is a sure-fire way to cause instant damage.