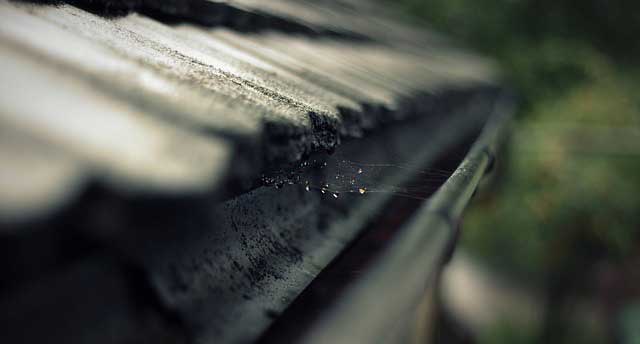 Perhaps one of the biggest nuisances throughout the year is keeping your gutters clear of debris. As troublesome as it may be, though, it is absolutely necessary. If you choose to ignore the build up in your gutters, the consequences can be expensively damaging.
Gutters function as a method for directing water from rain away from your home and when they get clogged, this route is then blocked, which then redirects rainwater to less-than-ideal areas (such as your foundation or basement). The cooler months are an especially pesky time for gutter maintenance because of lingering leaves from the fall and other debris. Below are some of the quickest and most efficient ways to clean debris out of your gutters this season.
Gutter Cleaning By Hand
Depending on the amount of debris in your gutters, you may find that the easiest way to clean them is to simply put on a pair of heavy-duty gardening gloves, climb your ladder, and get rid of the debris and leaves by hand.
By cleaning your gutters this way, you eliminate the need to use heavy and bulky equipment, and if the amount of debris is minimal, it will take you the least amount of time. Keep in mind, the use of gloves is not optional as debris can sometimes be sharp or hazardous, so wearing protective gloves is the only way to avoid causing harm or injury.
Gutter Cleaning With a Leaf Blower
A leaf blower can often be the ideal tool for getting rid of debris that is clogging up your gutter system. Be sure that while you're using your leaf blower, you do not push any debris into your downspout as this can cause a clog and be difficult to clean out.
In order to use your leaf blower to clean your gutters, you will need to stand on a ladder, unless you have a special attachment, which can often be found at your local hardware store.
Gutter Cleaning With a Hose
In addition to your leaf blower, your garden hose can also be an effective tool to clean debris out of your gutters this season. There are attachments you can purchase that streamline the process, however, they are not necessary.
Some attachments will allow you to clean your gutters from ground level, however, if you choose to use one of these, be sure to inspect your gutters afterwards in order to ensure all of the leaves are gone. You should always get rid of the residual leaves and debris by hand.
Gutter Cleaning in San Antonio
If you don't have the time or tools necessary to attempt this chore on your own, Glass-Geeks in San Antonio is here to help. We offer comprehensive gutter cleaning services for our San Antonio residences.
Be sure to also ask us about our window cleaning and pressure washing services! Give us a call today for a free estimate at (210) 893-2356.
We hope you're enjoying our blog! To get the best window cleaning, pressure washing, gutter cleaning and house washing in San Antonio, contact us today.
http://glass-geeks.com/wp-content/uploads/2017/01/rain-gutter-473845_640.jpg
344
640
Glass Geeks
http://glass-geeks.com/wp-content/uploads/2017/09/GG-LOGO-White-Background-Transparent-LARGE.png
Glass Geeks
2016-12-28 06:30:20
2016-12-28 06:30:20
Gutter Cleaning: Keeping Leaves and Debris Away