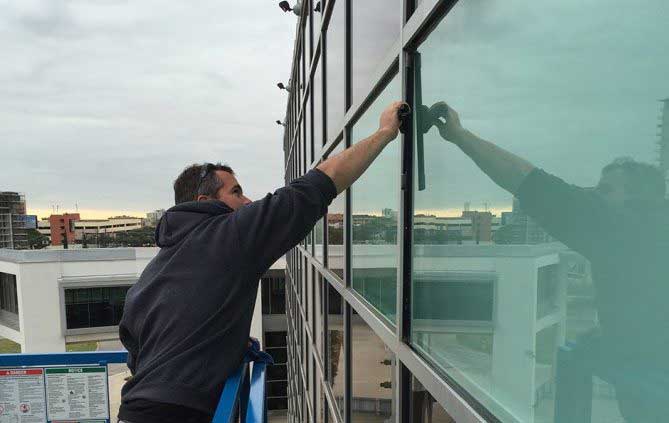 While so many businesses today have been switching to online-only service, it's even more imperative to have your brick and mortar business in San Antonio looking its most clean, professional, and approachable.
Here at Glass Geeks, we fully understand the impact a business's appearance has on its overall success, which is why we are dedicated to providing comprehensive commercial window cleaning services to all of our San Antonio clients.
As part of our commercial window cleaning services, we use a system that allows us to clean your business with the highest quality water in the most economic, safe, and efficient way possible. By using this advanced system we can provide all of our commercial clients with services that benefit both them and the environment. Find out what we can do for your business below:
Gutter Cleaning
Cleaning your gutters is a key maintenance task, imperative to running a successful business as skipping gutter cleaning could cost you significantly in the future.
Gutters are meant to catch and direct the flow of water, which means if you have poorly maintenanced gutters, this can lead to nasty buildup that could (in turn) lead to a leaky roof, a home for pests, and extreme water damage. Cleaning and maintaining your gutter system regularly will save you valuable money and time in the future.
Pressure Washing
You would be pleasantly surprised to see what a proper pressure washing can do for your business's curb appeal. Cleaning your building, walkway, and even your parking lot, regularly keeps your business looking as good as new, which means it will be more enticing to current and future customers.
Window Cleaning
The disgusting appearance that dirty windows provide can seriously have a negative impact on your business's credibility and reputability to passersby.
After all, the extent in which you take care of your business is a real reflection of how you would take care of your customers, thus, you want to show the world that you're not only attentive to your business, but organized as well, at all levels of your operation.
Glass Geeks Window Cleaning for All Your Commercial Cleaning Needs
As the holidays approach, so does one of the busiest spending seasons of the year. This means, there is no better time than the present to book a commercial cleaning service for your San Antonio business.
Glass Geeks of San Antonio is here to ensure your business is looking as fantastic as it performs. Click here to contact us today!
If you're unsure of your abilities, or simply don't have the time or equipment necessary to get the job done successfully, contact Glass-Geeks today. Our technicians are expertly trained and equipped with the latest in pressure washing technology, which means we can fully restore your business' exterior to its original beauty.
We hope you're enjoying our blog! To get the best window cleaning, pressure washing, gutter cleaning and house washing in San Antonio, contact us today.
http://glass-geeks.com/wp-content/uploads/2017/01/window-cleaning.jpg
427
669
Glass Geeks
http://glass-geeks.com/wp-content/uploads/2017/09/GG-LOGO-White-Background-Transparent-LARGE.png
Glass Geeks
2016-12-31 06:30:08
2016-12-31 06:30:08
Glass Geeks Takes Commercial Window Cleaning To The Next Level